The Benefits of Surrogacy: Is This Journey Right for You?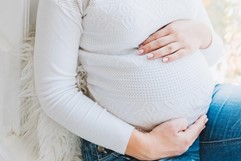 Introduction
While every surrogate journey is different, the gestational surrogacy process is one of the most precious gifts a woman can give and we're so grateful to those who selflessly help our Intended Parents. While there are some obvious benefits to becoming a surrogate, there are also lesser-known benefits that often get overlooked.
If you're considering becoming a surrogate (also often referred to as a gestational carrier), there are many decisions to make. It's important to research the process before committing to the idea, as you might realize there are more factors to being a surrogate mother than you initially realized.
Interested in becoming a surrogate? Here are the benefits you should know about, as well as additional factors to consider.
Keep reading to explore the process of gestational surrogacy.
---
What Are the Key Benefits of Being a Surrogate Mother?
Becoming a gestational carrier is a beautiful journey. Some women may have various anxieties before they become a surrogate, and this is normal as it's an important decision to make! When you take the first step towards helping a couple in need, you will have An Eggceptional Match by your side every step of the way.
Here are some other benefits of this special experience.
1. It's a Rewarding Journey
It may seem like we keep repeating ourselves, but surrogacy is a beautiful process, and being involved is truly amazing. Birth is one of the most remarkable moments of life, so experiencing this journey first-hand and giving the gift of parenthood to another couple/individual is something worth experiencing. Becoming a gestational carrier is not a decision to be taken lightly, but many women opt to follow this route out of the kindness of their own hearts.
2. You're Helping Another Family
Another key benefit and motivation for many surrogate mothers is the urge to help another family. Sadly, not everyone will experience being pregnant or the joy of becoming a parent, but you can help others enjoy the magic of starting a family. Many couples/individuals come to us to help them start their journey as parents, including LGBTQI+ couples, and with your help, these couples can experience their dream of having a child.
3. Financial Incentives
One of the well-known benefits of becoming a gestational carrier is surrogacy compensation. This financial incentive helps women take an independent financial step, such as buying a car, creating a college fund, or paying off debt. A first-time surrogate mother receives a recommended between $45,000 and $60,000 for a singleton birth.
Do note that this will vary from match-to-match, as some surrogates may have surrogate-friendly insurance that can request higher compensation. Also, if a surrogate mother is considering carrying multiples, the compensation will increase per fetus. You can also expect your Intended Parents to cover travel fares, lost wages, childcare, maternity clothing, etc.
Find out more about the compensation of surrogacy here.
4. It Will Broaden Your Horizons
Often, when you become a surrogate, you form a close friendship with the Intended Parents. Many women who choose gestational surrogacy leave with a lifelong bond with the new family, giving them more love than they could ever imagine. From meeting new people to forming lifetime relationships, you will have a new worldview.
5. You Will Experience Pregnancy
This benefit often gets overlooked, but if you become a surrogate, you will have the chance to be pregnant! Women who choose surrogacy often love the feeling of being pregnant and enjoy the marvel of life growing inside of them. We collaborate with women who have already experienced at least one birth, so if you miss the feeling of growing a little one, surrogacy might be the next step for you.
---
Things to Consider
While the benefits of being a gestational carrier are boundless, there are some factors of the process you will need to consider before jumping straight in. Always discuss your decision with friends and family beforehand, but always remember at the end of the day the decision to become a surrogate mother is yours.
1. Time Commitment
If you decide to become a surrogate, you will have to make a considerable time commitment. Not only will you be pregnant for nine months, but the selection process, initial meetings, and the workup to the pregnancy will also take some time. Though this may be frustrating as many surrogate mothers are excited to be pregnant again, the long wait is worth it to ensure everyone is on the same page!
Also, when you embark on this journey you will have the opportunity to build and enjoy a long-lasting relationship with your Intended Parents. This is one of the most fulfilling elements of the journey and the time commitment helps this bond grow stronger.
2. It Can Be Physically Demanding
Like any pregnancy, this path can be physically demanding. When you decide to be a gestational carrier, you will already know the toll pregnancy takes on your energy levels and body. While this is demanding, we will be there to help you along the journey. Our surrogates receive additional benefits such as housekeeping stipends to help you keep up with everyday commitments and "chores" too. At the end of the day, your comfort, wellness, and safety are our top priorities.
3. Complicated Feelings May Arise
Gestational surrogacy is an experience like no other, however, complicated feelings can occur. We make sure you work with the AEM team and licensed psychologists throughout the pregnancy journey and post-partum life to ensure you're informed about the process. Our team are experts in this field and they're always ready to listen to your concerns.
---
Frequently Asked Questions About Surrogacy
Want to know more about gestational surrogacy? Here's some extra information to know before you become a surrogate.
How Do I Apply?
If you're interested in becoming a surrogate with AEM, you can sign up here to create an account and access our online database. Once you've signed up, you can take your first steps to become a surrogate mother. The initial steps include an online application, uploading family information, previous pregnancy information, delivery, and OB records. When the AEM team receives your application, we will then contact you for an initial consultation and to answer any questions you may have!
What Medical Screenings Are Involved?
Once a match with Intended Parents is confirmed and background checks have been performed, you will then complete medical screenings at the intended parent's chosen fertility clinic as well as a mental health screening.
Your mental health screening will be performed by a licensed psychologist with a background in Assisted Reproductive Medicine. Medical screenings will include a gynecological examination, physical uterine evaluations, and a routine screening for sexually transmitted diseases. If you are in a committed relationship or married, your partner will also need to undergo a mental health screening. All evaluations and screenings are paid for by your Indented Parents.
What Are the Legal Proceedings?
The AEM team will assist in referring you to an attorney that is experienced in third-party reproduction. The attorney will be well versed in the industry and familiar with any statutes and laws in the state of the pending delivery. They will assist you with your Gestational Carrier Agreement and make sure you're informed about the birth plan, finance agreements, and the expectations of the process. A PBO (pre-birth order) is also needed in Colorado to determine the legal parent(s) of the child before the birth.
A Brief Overview of The Embryo Transfer
Many prospective surrogate mothers want to know as much as possible about the embryo transferal. This procedure is usually faster than you expect and it's also relatively painless too. Often, previous surrogates state that it is as uncomfortable as a routine pap smear examination.
Though all doctors are different, you can expect the IVF clinic experience to be calm and assuring. An IVF doctor will use a small catheter to insert the embryo into your uterus. Many IVF doctors will recommend 3-5 days of bed rest after the embryo transfer. After the transfer, the two-week wait begins! You will then have two HCG appointments and two heartbeat confirmations at the fertility clinic to check if the transfer was a success. You will then be released to your regular OB for the remainder of your pregnancy!
---
Are You Ready to Take the First Step?
If you're ready to start your gestational surrogacy experience, the team at An Eggceptional Match is here to welcome you with open arms. We have walked this road countless times and know how to always make sure you're comfortable. The miracle of life is a gift, so sharing it is the most selfless act a woman can ­­­­offer.
Want to understand more? Reach out today to explore this process with a member of our team. We're always happy to answer any questions to help you start the next chapter of your life. Find out more about our surrogacy services here.
Written by Isobel Coughlan